Sometimes it is difficult to believe I am a married woman. This time last year, I was not in the same position. I knew I would soon be married, but things just seemed to move so quickly- in a beautiful way. In October 2016, I was reconnected with a man I had met years before, engaged February 2017 and married in July 2017. This was only possible through Christ. It was not Brittney. It was not Michael. It was God. All God.
Marriage has been a beautiful transition for me. No, I can't talk on the phone as much. I can't travel with my friend girls as much. I can't share certain things with my parents anymore. It's not because I'm forbidden to do so by my husband, but it's because of the change of position. My priorities have changed. Aside from my relationship with God, my husband has become my priority. That means my schedule looks different. Things have changed. Things are changing. In addition to my schedule, desires, and position changing, marriage has been responsible for something very vital in my Christian walk: exposure. Exposure.
Let us examine and probe our ways, and let us return to the LORD. –Lamentations 3:40
Very simply put, marriage has been a mirror for me- sometimes a very unclean, cloudy mirror. Why? Once you marry, God will use your spouse to show you things about yourself. Guys, I did not realize how selfish I could be. I did not realize just how much I was accustomed to being in control. I was completely unaware of these things, until I got married. Various situations have exposed Brittney to Brittney. No, God does not expose us to ourselves to hurt us, but he does it in an effort to mold us and grow us into better servants, lovers, people, etc. In order to be a true asset to the kingdom, you must first die to yourself. That's what marriage has done. It has shown me Brittney: my strengths, my weaknesses, my hurt, my past wounds, etc. Daily, I learn more of myself as well as my purpose, business and life partner.
Make allowance for each other's faults, and forgive anyone who offends you. Remember, the Lord forgave you, so you must forgive others. –Col 3:13
As I reflect on my first few months of marriage, I am in awe of the many changes occurring within me. I am overwhelmed! Another revelation has been quite simple yet deep…I married a human. Yep! We sometimes miss the mark by believing our spouse will be perfect when we ourselves are very much so imperfect. We can't expect of anyone something we ourselves are unable to give. That's an injustice, right? We want our spouse to be considerate of our feelings, but we neglect his/hers when we are wrapped in selfishness. We want our spouse to be forgiving of us and our shortcomings, yet it's like pulling teeth for us to forgive him/her. We want our spouse to minister to our needs, yet we fail to adequately and appropriately minister to his/her needs. For this reason, I have learned to focus on my husband more than I focus on myself. This does not mean I neglect myself. It means I consider his needs above my own. It means when I take care of him, my God takes care of me. It means the thoughts, words, and actions I put into the atmosphere replicate themselves in my life. Lastly, it means when I care for my husband, minister to his needs, and assist in executing his dreams and visions, I am sowing seeds God will water, nourish and harvest without a shadow of a doubt.
"Love is patient, love is kind. It does not envy, it does not boast, it is not proud. It does not dishonor others, it is not self-seeking, it is not easily angered, it keeps no record of wrongs." -1 Corinthians 13:14-15
Ladies and gentlemen, marriage has taught me how to love. That's right. Prior to marriage, I thought I knew how to love, but I have grown in love since July 29, 2017. I have learned to wait. I have learned to be kinder. I have learned to be humble. I have learned to honor my husband and others more than before. I have learned to be selfless. I have learned to listen more than I speak and be slow in getting angry. I have learned to let things go- QUICKLY. Now, in no way am I saying all journeys to and in marriage look like mine, but my God, if you have been married one month, one year, one decade, I urge you to let God have complete control over you, your spouse, and your covenant. The less of you there is, the more room there is for God. Let Him in, and keep Him in. And remember, you married a human.
Facebook: Brittney B Hoover & Victory Over It All, LLC
IG: unadulterated_truth & victoryoveritallllc
Victoryoveritall.weebly.com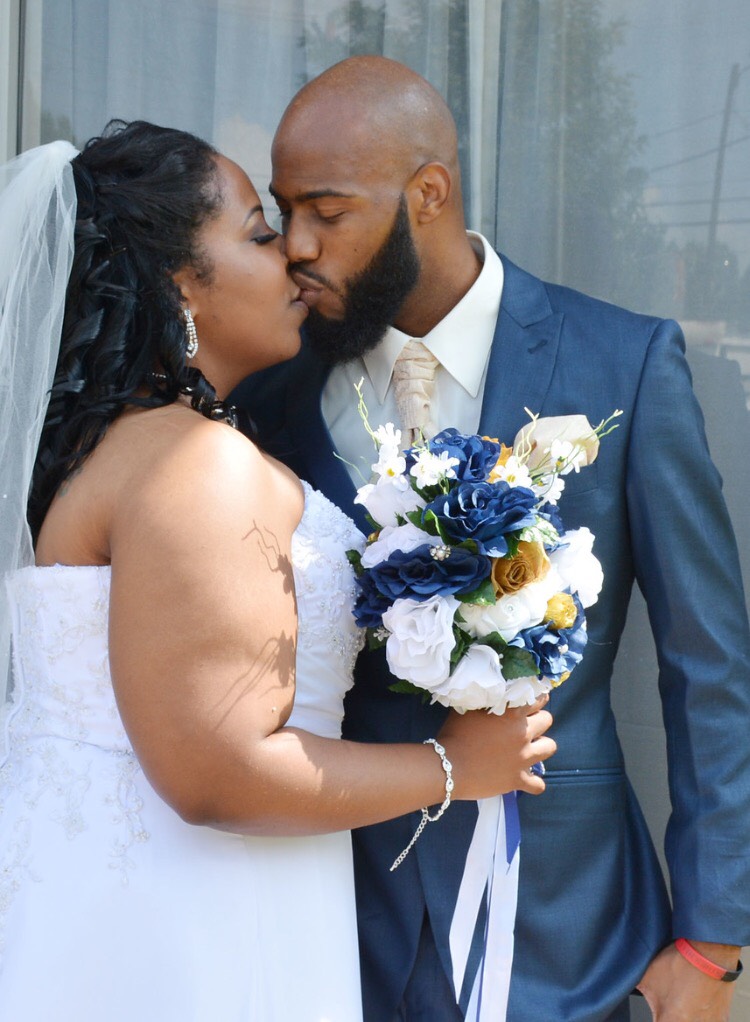 I am a native of Jackson, MS, but I currently reside in Mccomb, MS with my awesome and amazing husband! I am not only an educator but also an inspirational speaker and writer. I published my first book, It is Finished: A Devotional of Unadulterated Truth in April 2016, and my husband and I published our book, Victory Over It All 22 Days of Healing, Deliverance and More this year. Both devotionals can be found on amazon.com and barnesandnoble.com.
I am extremely passionate about sharing my experiences with women: my bout with depression, anxiety, and suicidal thoughts/attempts, being a newlywed and purpose seeker. It is my prayer all readers of this blog are blessed abundantly through my experience as a newly married woman. Marriage is a beautiful transition, but it truly takes a relationship with God, transparency, and communication to grow both individually and collectively. Newly married women and men, those seeking to be married, and those who may have been married for years must let God be God of all or nothing at all.